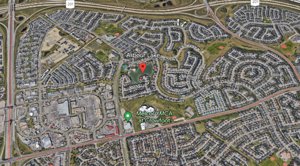 Arbour Lake is a residential neighborhood located in the northwest quadrant of Calgary, Alberta, Canada. Developed in the 1990s, Arbour Lake is a well-established community with a mix of single-family homes, townhouses, and condominiums surrounding a central lake.
Arbour Lake offers residents easy access to a range of recreational facilities, including swimming, boating, and fishing on the community lake. The community also features several parks, including Arbour Ridge Park and Citadel Park, which offer sports fields, playgrounds, and walking paths.
Residents of Arbour Lake have access to a variety of amenities and services, including schools, shopping, and public transportation. The community is served by several schools, including Arbour Lake School, Robert Thirsk High School, and St. Ambrose School. The nearby Crowfoot Crossing Shopping Centre offers a variety of retail stores, restaurants, and entertainment options.
Overall, Arbour Lake is a popular and family-friendly community with a range of housing options, recreational facilities, and convenient access to nearby amenities and services. Its central lake and community events make it an attractive choice for those looking for a vibrant and active community in Calgary.