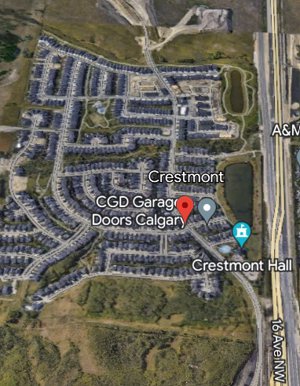 Crestmont is a picturesque community located in the southwest quadrant of Calgary. Nestled in the foothills of the Rocky Mountains, Crestmont offers stunning views of the surrounding natural beauty, as well as a range of amenities and community features that make it a great place to call home.
One of the defining features of Crestmont is its natural beauty. The community is surrounded by lush greenery, with plenty of parks and green spaces to explore. The nearby Nose Hill Park, for example, is a popular destination for hikers and nature enthusiasts, while the Bow River is just a short drive away.
Crestmont is also home to a number of amenities that make it a convenient place to live. The neighbourhood has easy access to major roads, including the Trans-Canada Highway, and is just a short drive away from major shopping centers, such as Westhills Towne Centre and Crowfoot Crossing. There are also several schools located in and around Crestmont, making it a great place for families with children.
In terms of community spirit, Crestmont has a number of events and activities that take place throughout the year. The Crestmont Homeowners Association organizes community events, such as a community-wide garage sale and a Christmas party, which can be a great way for residents to get to know each other and build a sense of community.
The real estate market in Crestmont offers a range of housing options, from single-family homes to townhouses and condominiums. Many of the homes in the area have been designed to take advantage of the stunning natural beauty, with large windows and spacious decks offering panoramic views of the surrounding hills and valleys.
Overall, Crestmont is a beautiful community that offers a high quality of life for its residents. With its natural beauty, convenient amenities, strong sense of community, and range of housing options, it is no wonder that Crestmont is such a popular place to live in Calgary.