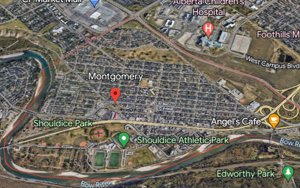 One of the key features of Montgomery is its access to natural amenities. The community is surrounded by several parks, including Shouldice Park, Bowmont Natural Environment Park, and Bowness Park. These parks offer residents opportunities for hiking, biking, picnicking, and many other outdoor activities. The community is also situated near the river pathway system, providing easy access to walking and cycling paths along the Bow River.
Montgomery is also home to a number of unique shops, restaurants, and cafes, many of which are located along Bowness Road. These businesses offer a diverse range of options for residents and visitors alike.
The community of Montgomery is also steeped in history. The neighbourhood was established in the early 1900s and has since become a hub for cultural and historical landmarks. One of the most notable landmarks is the Montgomery Community Association building, which was once the town hall for Montgomery before it was annexed by the City of Calgary.
Real estate in Montgomery offers a range of options for homebuyers, including single-family homes, townhouses, and condominiums. Many of the homes in the area have been recently renovated and updated to offer modern amenities while still preserving the community's unique character.
Overall, Montgomery is a charming and welcoming community with plenty to offer residents. With its access to natural amenities, unique shops and restaurants, and rich history, it is no wonder that Montgomery is such a popular place to call home in Calgary.