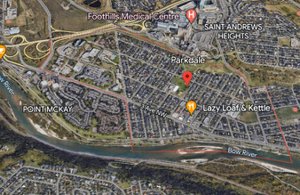 Parkdale is a vibrant community located in the northwest quadrant of Calgary, Alberta. This neighborhood is known for its beautiful parks, stunning views of the Bow River, and its close proximity to downtown Calgary.
One of the most notable features of Parkdale is its access to the Bow River pathway, which runs along the river's edge and offers a scenic route for walking, running, and cycling. The pathway is also a popular spot for fishing, kayaking, and paddleboarding.
In addition to its outdoor amenities, Parkdale is also home to a variety of shops and restaurants. The Parkdale Farmers' Market is a popular destination for fresh produce, baked goods, and artisanal crafts, while restaurants like Lazy Loaf & Kettle and Italian by Night offer delicious dining options.
Parkdale is also home to a number of community events and festivals throughout the year, including the Parkdale Holiday Craft Sale and the Parkdale Community Stampede Breakfast. These events offer residents the chance to come together and celebrate their community.
One of the most unique features of Parkdale is the Parkdale Petfest, an annual event that celebrates the bond between pets and their owners. The festival features a variety of pet-related activities, including a dog show, agility course, and pet-friendly vendors.
Another notable attraction in Parkdale is the University of Calgary's Foothills Campus, which is located just west of the neighborhood. This campus is home to a number of research facilities and medical centers, including the Foothills Medical Centre and the Tom Baker Cancer Centre.
Overall, Parkdale is a vibrant and welcoming community that offers a variety of amenities and attractions for residents and visitors alike. Whether you're looking to enjoy the great outdoors, shop and dine, or participate in community events, Parkdale has something for everyone.