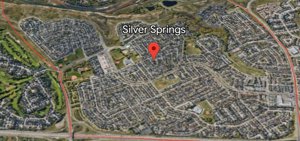 Silver Springs is a well-established and highly sought-after community located in the northwest quadrant of Calgary. It is situated on the banks of the Bow River, offering stunning views of the surrounding natural beauty. The community boasts a range of amenities and attractions, making it a great place to call home.
One of the key features of Silver Springs is its abundance of green space and ridge views. The Bowmont Natural Environment Park and the Silver Springs Golf & Country Club offer residents plenty of opportunities to enjoy the outdoors. The neighbourhood is also home to a number of parks and playgrounds, making it a great place for families with children.
In terms of amenities, Silver Springs has a range of options for residents. The Crowfoot Shopping Centre, located just a short drive away, offers a variety of stores, restaurants, and services. There are also several schools located in and around Silver Springs, including Silver Springs School and W.O. Mitchell Elementary School.
The community also has a strong sense of community spirit, with a number of events and activities taking place throughout the year. The Silver Springs Community Association organizes a variety of events, such as the annual Stampede Breakfast and the Winterfest Celebration, which can be a great way for residents to get to know each other and build a sense of community.
Real estate in Silver Springs offers a range of housing options, including single-family homes, townhouses, and condominiums. Many of the homes in the area are well-established and have been renovated to offer modern amenities while preserving the community's unique character.
Overall, Silver Springs is a beautiful community with plenty to offer residents. With its abundance of green space, convenient amenities, and strong sense of community spirit, it is no wonder that Silver Springs is such a popular place to call home in Calgary.