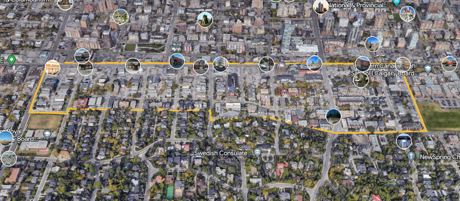 Lower Mount Royal is one of the most sought-after neighborhoods in Calgary, Alberta, offering a perfect balance of urban living and peaceful surroundings. This vibrant community is located just south of downtown Calgary and is known for its beautiful tree-lined streets, historic buildings, and an eclectic mix of trendy shops, restaurants, and cafes.
Real Estate:
Lower Mount Royal is a popular residential area with a range of real estate options, including apartments, condos, townhouses, and single-family homes. The neighborhood features a mix of historic homes and modern infills, offering plenty of opportunities for both homebuyers and real estate investors.
Amenities:
Residents of Lower Mount Royal have access to a variety of amenities, including fitness centers, community centers, parks, and recreational facilities. The neighborhood is home to a number of top-rated schools, making it an ideal place for families. In addition, Lower Mount Royal is conveniently located near major shopping centers, grocery stores, and medical facilities.
Attractions:
Lower Mount Royal is a hub of art and culture, with a variety of museums, theaters, and galleries. The neighborhood is home to the Theatre Calgary, which hosts a range of productions throughout the year, as well as the Calgary Philharmonic Orchestra. Residents can also enjoy the nearby Stampede Grounds, where the famous Calgary Stampede takes place each year.
Restaurants and Cafes:
Lower Mount Royal is known for its diverse dining scene, with a variety of restaurants and cafes to choose from. Foodies can explore the neighborhood's many options, including Italian, Japanese, Indian, and Mexican cuisine. Local favorites include Mount Royal Village and 17th Avenue, where visitors can find some of the best restaurants, cafes, and bars in the city.
Outdoor Activities:
Lower Mount Royal is home to several parks, including Tomkins Park and the historic Central Memorial Park, providing residents with plenty of outdoor spaces to enjoy. The neighborhood is also conveniently located near the Bow River, where residents can bike, walk, or jog along the river pathway.
Nightlife:
Lower Mount Royal is well-known for its bustling nightlife scene, with a variety of bars, clubs, and music venues. Visitors can enjoy live music, craft beer, and creative cocktails at some of the neighborhood's most popular spots.
Investment Opportunities:
With its prime location, vibrant community, and a variety of real estate options, Lower Mount Royal is a great place for real estate investors. The neighborhood is in high demand, making it an attractive option for those looking to purchase rental properties or invest in real estate.