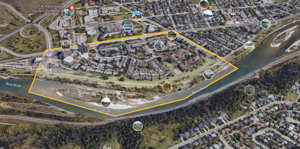 Point McKay is a charming community located along the Bow River in Calgary, offering a perfect blend of urban convenience and natural beauty. This serene riverside community is nestled in the heart of the city, providing easy access to downtown Calgary and other major hubs.
Point McKay is a charming, established community located just minutes from downtown Calgary. It offers a unique combination of urban convenience and peaceful suburban living, making it an ideal neighborhood for professionals, families, and retirees.
Let's explore the top benefits of living in Point McKay, including its stunning natural surroundings, abundant amenities, and proximity to downtown Calgary.
History: Point McKay was originally developed in the 1970s as a planned community featuring modern architecture and ample green space. Today, it is a thriving neighborhood that has retained its original charm while also embracing modern amenities and conveniences.
Strong Community: Point McKay is known for its strong sense of community, with several community events and activities taking place throughout the year. The community association hosts events like movie nights, community BBQs, and holiday events, making it easy to meet your neighbors and get involved in the community.
Attractions: Point McKay offers easy access to some of Calgary's best attractions, including the nearby Bow River and Edworthy Park, which are popular for outdoor activities such as hiking, biking, and picnicking. The community is also just a short drive from the trendy Kensington district, which features unique boutiques, cafes, and restaurants.
Restaurants, cafes, and bars: Point McKay is home to several excellent restaurants, cafes, and bars. For a taste of authentic Italian cuisine, check out La Brezza Ristorante. Or, for a casual meal or drinks, head to The Place Lounge or The Lazy Loaf & Kettle.
Outdoor activities: Residents of Point McKay enjoy easy access to several parks and green spaces, including the beautiful Edworthy Park, which features over 160 hectares of trails, picnic areas, and off-leash dog parks. The community is also located just steps from the Bow River pathway, which is a popular destination for cyclists and walkers.
Beautiful Riverside Location: Point McKay is located along the Bow River, offering picturesque views of the water and surrounding natural landscape. The community is also located near several parks and trails, making it an ideal location for outdoor enthusiasts.
Transportation: Point McKay is conveniently located near several major transportation routes, including the Trans-Canada Highway and Crowchild Trail. The community is also served by several bus routes, and the nearby LRT station provides easy access to downtown Calgary and other areas of the city.
Proximity to Downtown Calgary: Point McKay is just a short drive away from downtown Calgary, providing easy access to all of the amenities that the city has to offer, including world-class shopping, dining, and entertainment.
Community events: Point McKay is a tight-knit community that offers a variety of community events and activities throughout the year. These include the annual Point McKay garage sale, which is held in the spring, as well as a variety of charity events and volunteer opportunities.
Amenities: Point McKay is home to several excellent amenities, including the Riverside Club, which features a fitness center, tennis courts, and a swimming pool. The nearby West Hillhurst Community Association also offers a variety of recreational activities, including fitness classes and sports leagues. The community is also located near the Foothills Medical Centre, making it an ideal location for healthcare professionals and those in need of medical care.
Whether you're a young professional, a growing family, or a retiree, Point McKay has something to offer everyone.
Real Estate Market: Point McKay offers a wide range of real estate options, including apartments and townhouses. The community has seen steady price increases in recent years, making it an attractive location for both homebuyers and investors.