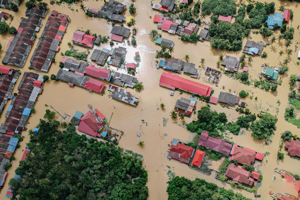 The last big flood in Calgary occurred in June 2013, when heavy rainfall caused significant flooding along the Bow and Elbow rivers. The flood was one of the costliest natural disasters in Canadian history, causing billions of dollars in damage to homes, businesses, and infrastructure in southern Alberta.
The flood began on June 20, 2013, and continued for several days as heavy rainfall caused the rivers to overflow their banks. The downtown core of Calgary was particularly hard hit, with many businesses and homes being flooded. The flooding also forced the evacuation of thousands of people from their homes.
The 2013 flood prompted significant changes in flood management and mitigation in Calgary and other communities in Alberta. The city implemented a number of measures to reduce the risk of future floods, including the construction of new flood barriers, the relocation of some homes and businesses from flood-prone areas, and increased flood mapping and monitoring. These efforts have helped to reduce the risk of future flooding in the city, but it's important for residents and businesses to remain vigilant and prepared for the possibility of future floods.
The City of Calgary provides information about flood zones on its website, including an interactive flood map. The flood map shows areas that are at risk of flooding due to river overbank flooding or overland flooding from heavy rainfall.
The flood map shows different flood zones, including the 1-in-100-year flood zone, the 1-in-200-year flood zone, and the 1-in-500-year flood zone. These zones are based on the probability of a major flood occurring in a given year.
In addition to the flood map, the City of Calgary provides flood hazard information for specific properties through its Property Information Tool. This tool allows you to search for a property and view flood hazard information, as well as other property information such as zoning and land use.
It's important to note that flood zones can change over time, especially as development and climate change can impact the risk of flooding. If you're considering purchasing a property in Calgary, it's important to obtain up-to-date information about the flood risk for the property and to take appropriate measures to protect your property from flooding, such as purchasing flood insurance and taking steps to mitigate flood risk.
City of Calgary Flood Map https://www.calgary.ca/planning/land-use/floodways.html